Before working for Storm Products, Inc., I had 15 years of branding and packaging design experience for design firms that worked with companies like General Mills, Nabisco, Hormel, McCormick, Kroger, etc. I brought this mind set and knowledge to Storm Products, Inc.
For me design is really all about building meaningful stories to capture the attention of you, our consumer. We want you to engage and feel like you are truly a part of our brands.
It has been my goal to help differentiate each of our brands from each other with their own recognizable look and feel and their own brand voice. In December, I created brand boards for Storm, Roto Grip and 900 Global to showcase how we can keep our brand distinctly different from each other. Storm is clean, simple, elevated and professional while Roto Grip is expressive, grungy and edgy and we introduced a new direction for 900 Global which is small batch, crafted and purposefully engineered. We are really trying to push 900 global into this whiskey distillery/craft beer realm.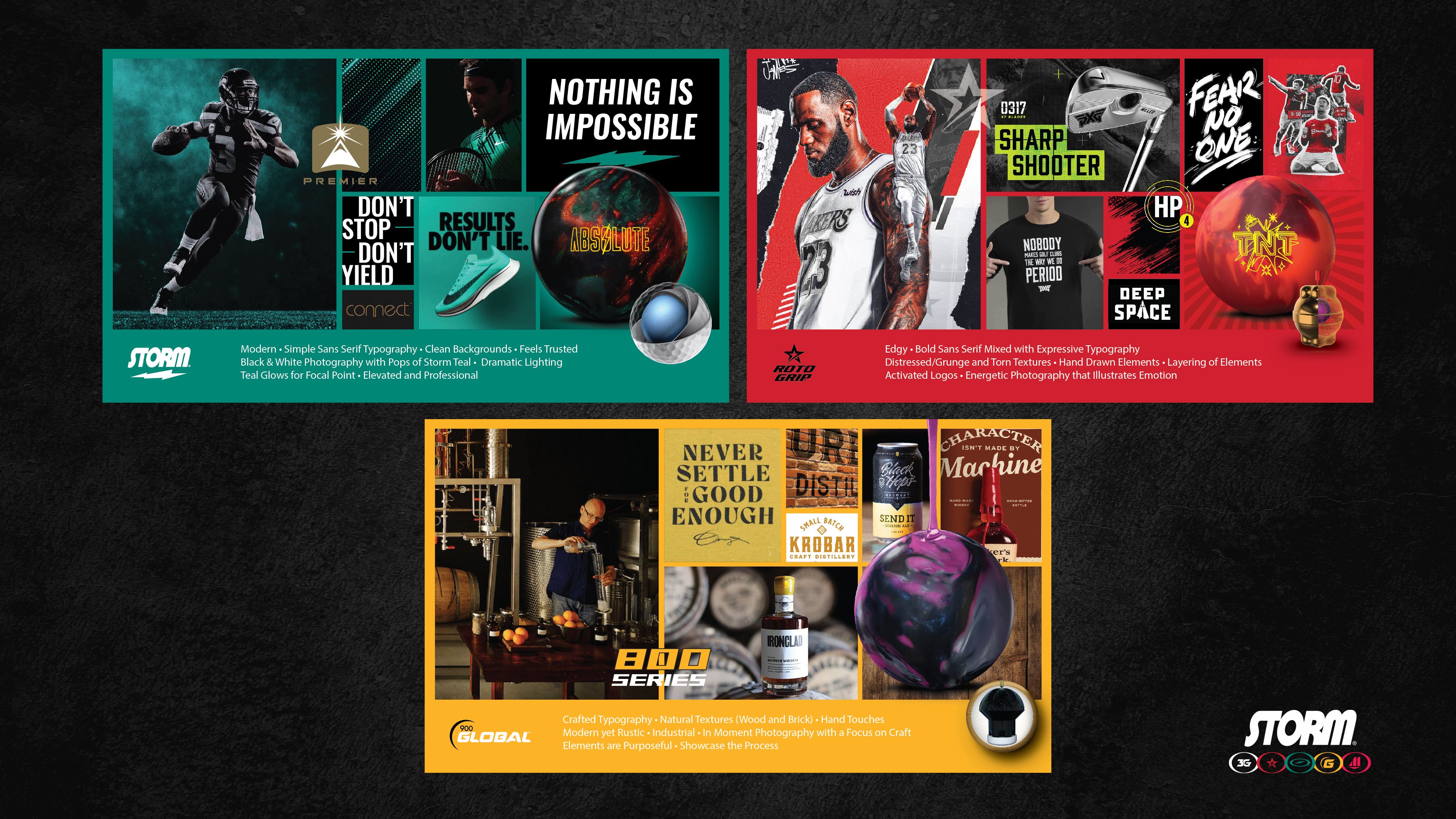 In 2023 the marketing team has been collaborating to bring these brand expressions to life across all marketing platforms from ball logo to ad sheet to social media. So that there is instant brand recognition, and it will bring focus back to the core values of each brand while still differentiating between the brands.
This is where the idea for the first advertisement of the year for 900 Global Eternity came from. Blair Blumenscheid and I really want to tell the story of 900 Global as our small batch brand, focusing on the craft and care that is put into each of these products. The ad sheet itself features a dark wood background with the brand engraved into it giving it that whiskey distillery feel but the focus really is on the action of the ball being poured to bring in the hand crafted aspect of the brand. This story and look were then spread across all platforms for a cohesive campaign.
Be sure to be on the lookout as we continue to bring new direction to life for the 900 Global brand!