Bowling News USA - July 16, 2014

Striking Way to Earn Scholarship Dollars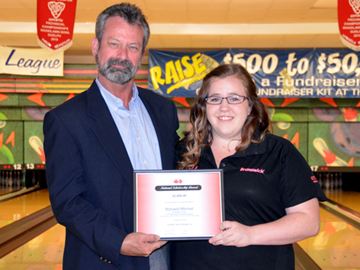 Mykaela Mitchell is bowling for dollars
Jonathon Brodie photo
Mykaela Mitchell receives the Canadian Tenpin Federation Youth Scholarship Award from Jim Lester, CTF Youth Manager.
London Community News
Mykaela Mitchell is one step closer to paying off her education every time she bowls her ball down the lane.
The 16-year-old local bowler earned $1,000 through the Canadian Tenpin Federation (CTF) Youth Scholarship, making her the first recipient of the award, along with Winnipeg's Mitch Hupe.
Mitchell can add the funds to her tuition savings as she's already put aside about $8,000, most of it coming from tournaments where scholarship money is the prize.
The Sir Wilfrid Laurier Secondary School student, who just finished Grade 11, isn't exactly sure what she'll do after high school, but is leaning towards going to college in the U.S.
Mitchell had to fill out an application to get the CTF Youth Scholarship that involved writing an essay and had to detail her volunteer history and bowling accomplishments.
The latter would have been a long list. Mitchell played in her first national competition at age 12. She became the youngest female Canadian to bowl a 300 when she did it in 2012. The Bowlerama-Royale regular won a bronze medal in the trio category at the Pan American Bowling Confederation Youth Championships (PABCON) in Puerto Rico. Those are just a few of the things she can boast about.
In her application, Mitchell had to write about what the CTF youth program has done for her over the years.
"I said it basically has changed my life because I wouldn't be where I am today without the youth program," she said after a presentation where she was handed the CTF Youth Scholarship Award.
The challenges are only getting harder for Mitchell as she's recently moved from the under-15 division to under-20.
She'll be getting ready for the stiffer competition when she heads to Buffalo for the North Pointe Junior Gold Championships, starting July 12.
"Last year I made sure that I watched them to see how they were doing and how they were scoring," Mitchell said about scouting the older bowler in past competitions. "I know it'll be different."
---